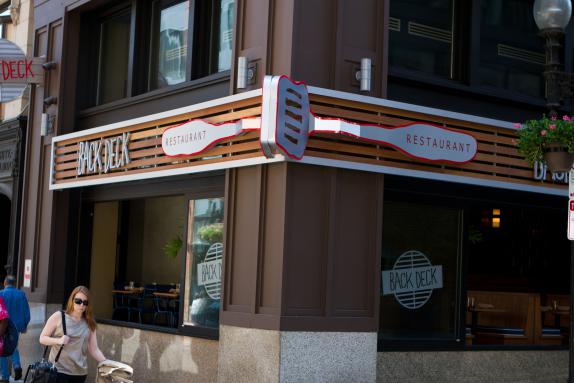 About
Back Deck offers professional backyard grilling in a laid-back city setting seven days a week. Friends and family meet for charcoal-grilled favorites inspired by the food served at casual cookouts along with porch-perfect cocktails, beer and wine.
At Back Deck we burn hardwood charcoal.
Hardwood charcoal is made by partially burning oak and maple with limited oxygen which eliminates the more volatile components, like trapped hydrogen, methane and tars, allowing for a more predictable, even burn and much less smoke than wood. At the same time we feel it gives you some advantages over grilling with gas.
Besides the pleasant smoky flavor it imparts, charcoal gives you higher, more intense heat. Charcoal can produce temperatures 100 degrees higher than gas which means foods sear better, delicate food like fish stick less, and the "grilled" taste, which is a product of the hot grate searing the surface of the foods, as well as the smoke produced by the fire, is enhanced.
If you are skilled in charcoal grilling, in some ways burning hardwood charcoal allows you more control than gas. A charcoal fire has many levels of heat unlike a gas fire, so that if you can read the fire you can adjust the temperature under a piece of food by simply moving it to a hotter or cooler spot.